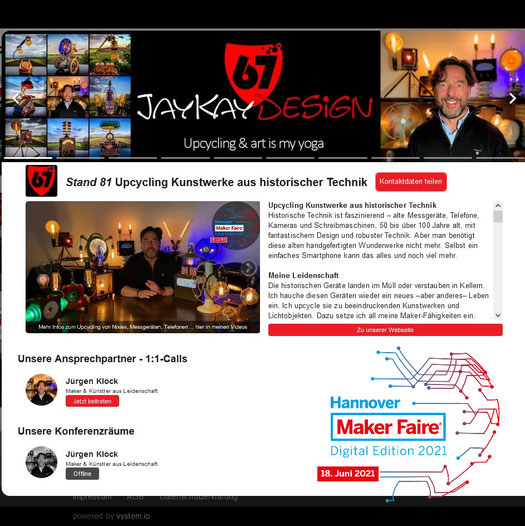 On June 18, I was a participant and exhibitor at the Maker Faire Hannover. Due to Covid-19, the event was completely virtual.
Each exhibitor has set up a virtual booth, with texts, videos, photos and could be addressed by visitors via video chat. 
For my booth I created an intro video and 10 videos about my upcycling projects:
Historical measuring devices and gauges
Nixie tubes
Antique fan heaters
Old tube radios and telephones
Electron tubes
Technical and scientific devices
Mechanical typewriters and calculators
Old altitude suns and medical devices
Antique cameras and film cameras
Ceramic and glass insulators
In total, there were 90 exhibitors ranging from 3D printing to robotics, Raspi/Arduino, wearables, environmental protection, upcycling and many more Maker projects.
About 2,500 people visited the Maker Faire, I myself had about 400 visitors and 10 video chats that day.
However, we are all looking forward to a physical Maker Faire where you can experience projects, robots, materials and especially the people live again. Digital is only a weak substitute for real experience.
A big thanks to the whole Maker Faire team who did a great job with the digital Maker Faire. We are looking forward to classic Maker Faires again in 2022 in Hannover, Berlin and other places.