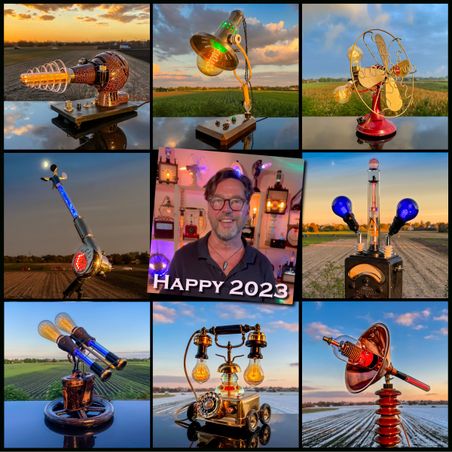 My 2022 Review
In 2022 I have created these 8 upcycling works of art. From left to right:
1950s Carl Zeiss slide projector 'Kleinbildwerfer 100' turned into a retrofuturistic ray gun

Sollux medical lamp from the 1920s with giant Edison bulb and green LED ring

Antique 1930s Siemens fan with 3 Edison bulbs

1930s Hairdryer 'Fön' by Sanitas upcycled with a blue CFL-tube and LEDs

Upcycled AVOmeter and a Siemens Helium-Neon-Lasertube

Antique binoculars from 1900 with Edison bulbs and blue CFL tubes

Golden vintage KTAS telephone upcycled with Edison bulbs and Märklin wheels

1950s Molitor radiant heater with big electron tube and red LEDs
Art is my hobby and above all relaxation - my yoga, so to speak.
I only continue to work on my upcycling pieces when I enjoy it and get into the creative flow. You can't force that.
Of course, it's also nice to show the art and talk about it with other people.
A highlight in 2022 was my participation in the big Maker Faire in Hannover with over 12,000 visitors. That gives energy again for new works. 
Let's create - not destroy.